Welcome to the First Annual ArcheryTalk Trail Camera Photo Contest brought to you by DeerLab.com!
The idea is simple. ArcheryTalk members will post their favorite trail camera pictures from the dates of April 1, 2014 through January 31st, 2015. The Archerytalk Administration will then select the top 10 photos from all submitted photos for a final vote. Once the top 10 submissions are chosen, a poll will be posted for ArcheryTalk members to vote on over a week long span. The top 5 entries will all take away great prizes.
UPDATE: The poll is LIVE
http://www.archerytalk.com/vb/showthread.php?t=2428415
In order to participate in this contest, all members...
1.) Must be in good standing on all forums.
2.) Must not be a direct employee or affiliate of any of the sponsors donating prizes, as well as an Admin, Moderator, or otherwise affiliate of AT.
3.) Must be willing to provide AT staff with contact information including valid shipping address and contact number in the event you make the top 10 list.
4.) Must be at least 18 years of age.
5.) Submit a photo taken during the 2014/2015 Season.
Entries MUST...
1.) Belong to you. Submitting images you have stolen online, borrowed from a friend, etc. will warrant removal from the contest and possibly further consequences (temporary or permanent ban). Top 10 entries must be willing to cooperate with AT staff as we ensure you do, in fact, own the entries. This may include submitting additional photos with the same background, asked to submit photos from that location in the future, etc. If the photo does in fact belong to you, you have nothing to worry about.
2.) NOT be a photo of a trail camera photo. Please only upload the original trail camera photo.
3.) NOT be a still shot from a video nor will any videos be accepted.
4.) Be submitted by 7:00 EST January 31st, 2015. We will be very strict on this.
Participants are allowed..
.
1.) No more than one entry per day from launch date until the end of January. Each entry is one single picture, or in the event a panoramic camera is used, no more than three combined images. Multiple entries with very similar subject/background are discouraged. If you have 5 greats shots of the same subject, choose one to enter.
2.) To submit photos that do not contain deer/big bucks. A bald eagle swooping down to grab a rabbit is a great submission...this is not a big buck contest. Big racks don't hurt anything of course. We will be judging the image on its content, background, scenery, clarity, etc.
Your entries will be immediately disqualified and removed if....
1.) You are clearly trolling
2.) Contain captive animals
3.) Are altered in anyway (photo shop, HDR, enhanced..) An exception will be made in the event you are using a panoramic trail camera only. you may combine up to three images for one panoramic entry.
4.) Are still shots, videos, or screen shots.
5.) Are from previous years. Only 2014/2015 are allowed.
All members and participants must
1.) Refrain from commenting anything in the submission thread. ONLY photos are allowed. Do not comment "Nice buck" or "great pic"... An exception will be made for a SHORT description of the picture if you wish. "Got this picture last week in a known bedding area" or "Been watching this buck for a few years" are OK examples.
Am I allowed to submit a photo from a Home Brew camera?
Sure thing. Just be aware this may prompt additional questions from the staff as we investigate the legitimacy of the image if you make it to the top 10.
I want to submit an image from this year, but the time stamp is incorrect
Feel free to submit anyway, knowing that we will require strong evidence that the image was indeed taken this year. Please note this in your submission. A correct time stamp is a major plus, and so is having your AT username in the stamp.
If you have any questions
, find out about an entree that violates one or several of the rules, or have feedback please contact either myself, Beamen123, or Jennz1999. The three of us will be running this contest and keeping an eye on this.
All rules and regulations, prizes, and sponsors are subject to change at any time. We reserve the right to remove any images we feel are in violation of any rules.
Primary Sponsor
Huge thanks goes to DeerLab.com for being the primary sponsor this year!
DeerLab.com's unique and user-friendly web-based app helps hunters understand patterns of specific animals at various camera locations and simplifies the previous laborious process of managing thousands of trail camera photos from numerous cameras and properties.
Compatible with every commercial and home brew trail camera and accessible from any computer, tablet or smart phone, DeerLab automatically synchronizes photos with comprehensive local weather data and allows hunters to easily filter photos by camera, date, weather conditions, specific deer, moon phase and more. In addition, DeerLab identifies which cameras are capturing specific deer, the time of day the deer are most active, and when they show up at a particular camera, helping the hunter identify when and where to hunt.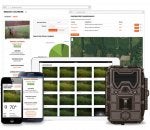 View all of DeerLab's
features
or try it with their 14-day, no credit card required,
free trial
Here's a short video of how DeerLab can pattern deer:
Make sure to also follow DeerLab on
Facebook
,
Twitter
and
Google+