Discussion Starter
·
#1
·
First let me apologize for re-posting this from a couple years ago. I noticed my pictures were removed in the photobucket hosting nonsense. Just in case this may help someone, I will re-do the post and add the pics back in.
First, I ordered them from jerry at southshore. And as usual they are perfect.
Started with GT kinetic chaos 200 spine, 30"
White wrap, ssk 300 vanes.
These have the nock bushings as well.
Jerry squared and spine tested the arrows and installed the fletchings at 2* right helical
Jerry left out the inserts for me so I could build my aluminum footers and glue everything in later.
50gr HIT insert will be epoxied in behind a 50gr black eagle rampage in/outsert. Then a 1.75" piece of 2014 Al footer will epoxy everything together.
I don't have an arrow saw. So I cut the aluminum with a pipe cutter and used my RCBS case prep tool to deburr the ends.
Tried my best to square and clean up the ends of the footers with my drill and a file; and for the arrow shaft side I used my drill and file again to create a taper for easier arrow removal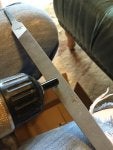 TBC so I can add more pics...