Discussion Starter
•
#1
•
Those AA Energizer Ultimate Lithium batteries are expensive!...so I thought I would take advantage of the auxiliary power port on my Bushnell Trophy Cam and hook up an external battery pack.
I knew that simply hooking up a 12 volt battery to the camera would fry it. I had been trying to figure this one out for a long time (see original post here
http://www.archerytalk.com/vb/showthread.php?t=4736969
), but I had some time off between the Christmas and New Year's Holiday and finally completed the project. I could have simply bought the solar charger that Bushnell makes for the camera, but the area that I plan on mounting the camera does not get a lot of sun since it is on a North facing slope and in the deep woods. Plus...a DIY project is much more fun.
Here are a few pics of the final result. I am testing it out in my backyard right now and I have taken over 3,000 pics and videos in the last few days (dang squirrel's) and I have 100% battery. I will share the materials that I used and how I did it in the next few posts.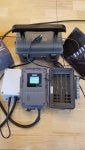 Note: The camera is ON, but there aren't any AA batteries.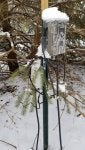 I ruined a couple drill bits drilling holes in the t-post. Good thing I hammered it in the ground before it froze.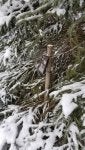 Optional solar panel attached. I reclaimed a dead tree branch and made a post to mount the solar panel.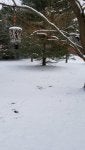 Semi-homemade feeder. The small trash can is just the right size for a 50 lb. bag of yellow gold. Spray painted to look like ASAT.