Discussion Starter
•
#1
•
Our season opened Wednesday but I couldn't get out until today. I'd been watching turkeys in the area I hunted this morning for a couple weeks so I knew they were in the area. The only problem is that I'd been seeing them in the afternoon and not in the morning.
Ended up being a fairly quick morning!!
At first light I'd been hitting the call and got no response so I was a little concerned that they wouldn't be around here in the a.m. Once daylight broke I started getting a response but they were a good distance away.
Around 6am 2 jakes came down through the field on the opposite side of a stone wall about 100yds away. I didn't see them until they cleared the wall. I hit the call and got there attention. I wasn't gonna shoot either one but I figured I'd have some fun.
In the mean time the gobbling I'd heard from a distance at first light was steadily getting closer. I watched the jakes come in and walk along another stone wall about 50yds behind me. I lost sight of them and then peaked out the back of the blind to see a Tom down in the corner of the field as well. He and the 2 jakes walked to the back corner and I lost sight of them.
I hit the call and heard some close gobbling. I peaked back out the back of the DB and saw a long beard standing 10yds away checking out my dekes. He stood there a bit, went into half strut, and then made a B-line for the B-Mobile and She Mobile.
He ended up walking by my blind about 5' away! I was afraid to draw! I let him get about 10yds and drilled. He went another 10yds and piled up. All this happened within 15mins of seeing the frist 2 jakes.
The great part is once the tom piled up the 2 jakes came hauling ass up from the corner of the field and beat the hell out of the dead Tom!!! It was hysterical! I've seen it on t.v. but never in person. They tore into him for a good 5 minutes standing on him and pecking at his head!!
It was a GREAT morning!!
The tom endedup being a 21lb bird with a 10 1/4" beard and 7/8" sours. For whatever reason the Easterns around here all have rounded spurs.
The Pose
:shade:
The Bird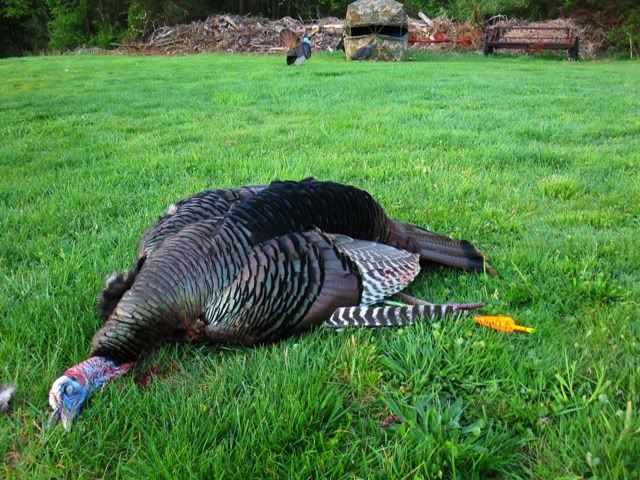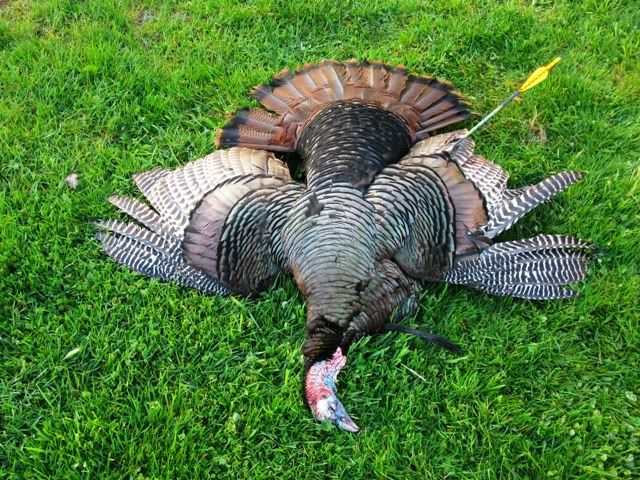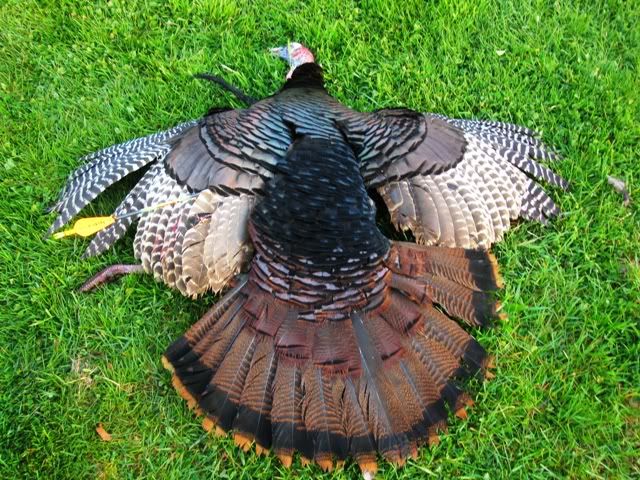 The setup
The Beat Down!!