Discussion Starter
•
#1
•
Here's my 2 cents having this blind now for 48 hours
The Double Bull Surround View Blinds are offered in three packages. All are 5 hub systems, have a heavy duty carrying bag, a stake down kit and come in sizes that I'll classify as:
Small - 48X48X65 and 180 degrees of view from 2 panels with 2 blacked out (inside). It's a good fit for one adult and maybe a small child.
Medium - 55X55X70 and 270 degrees of view from 3 panels with 1 blacked out. Only slightly bigger, two average sized adults could fit but it would be tight.
Large - 60X50X70 and 360 degrees of view. A hanging panel is provided if you want to add a black back drop. There should be plenty of room for two adults.
This Medium size, 270 degree view blind is the one I have and it's up. That effort required a review on YouTube to do as the hub system has a sequence to follow to open. The instructions provided are OK, but not the best for a first- timer, WTH maybe it's just me.....
I've looked at it inside and out, top to bottom. I setup my preferred chair and with my Storm and Specialist, I tested shooting positions on a field pod and with shooting sticks. It's a big enough blind for one hunter, very comfortable and I had no issues finding easy to get to shooting lanes. I think this is going to be a really, really good blind for a crossbow shooter.
Observations:
The "Truth" camo pattern is interesting and seems be following the trend these days of less traditional shapes to produce shadows and depth. Time will tell how well it works. The stealth "view through" material looks very good from the outside and at 5' you have to look very close to see into it. Beyond that distance, I think it will be very effective camo if you are generally still inside the blind. From the inside out the "view through" material starts 24" off the ground and it reminds me of looking through a porch screen. Some visual interference but still very easy to see through.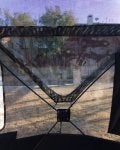 It's also easy to look through even as light goes away and that's the game changer I'm counting on. When I hunt deer here in Texas I have a spot near a watering hole and I'll sit there from 3 in the afternoon until 7-8 pm or later if I'm also after hogs. Looking out one small barn shaped window makes for a long hunt.
I may experiment with it yet this winter here in TX but I do plan to take it to KS for a spring turkey hunt. After that it will be used here next fall for deer.
The blind materials, stitching, zippers and hubs and struts are much heavier and appear to be of better quality than what is used on the Ameristep blinds I have. And I think you would expect that from a blind that has a Lifetime Warranty and one at this price point.
The vertical windows don't have velcro edges or are a tight fitting window cover so wind and critters may be more prevalent. They have a black cover panel that attaches at top and bottom.
The material used for the viewing sections of the blind are perforated so they will pass water, especially in driven rain. I think we have rain the forecast so I'll check that out later this week. I generally don't hunt in rain so this may not be an issue.
Each of the side center hubs has a tether point on the outside of the blind for tying it down. Inside the blind there are eight stake points on the four corners and on the four centers. The lower edge of the blind does have a nice fold over which will help block wind and visibility.
There are no loops or straps on the sides or top for brush.
This is a 270 degree "view" blind and I think a guy needs to carefully consider a couple things as he decides which one of the three blinds is the right choice:
- Will this be a one man or more hunting blind?
- Where is this blind going to be setup?
- How much will it be brushed in and how does that affect the view?
- How much view do you really need and how much black back drop you want thinking from a viewing animals POV?
- How will the weather affect the blind?
- Direct sun, depending on angle will affect how well the stealth characteristic of the perforated viewing sections of the blind work. I wouldn't suggest setting it up with shooting lanes facing a rising or setting sun.
At this point I like it a lot. Tune in six months from now and I'll have some experience with it and a better opinion.