Discussion Starter
·
#1
·
Hello all,
I've been fiddling with a mini crossbow since I got quarantined inside. I'm still green at bowmaking, but it didn't stop me from blowing through 4 tiny staves. I'm hoping by posting my struggles y'all could help me to figure out a better way, and perhaps some of you will be entertained or get learned off it.
First off, here's a video of my rapidly failing most recent attempt to give you an idea of the whole project.
Now here's the first rounded-belly bow of osage that whose back broke under tension. I confidently reflexed it and microwaved it for 40 seconds three times because I was excited to try the crossbow out. It's a little over ten inches long.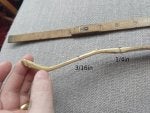 The second was of black locust with an almost equilateral triangle profile down the length. It also ultimately broke its back, though before that I could see a number of areas of compression on the belly. It's about 12 inches long.
(post 1 of 2)