Discussion Starter
•
#1
•
If you saw Muy Grande's thread about his return to hunting after his treestand fall, you already know that he took a great buck while we were hunting at K&N Outfitters in Kentucky. It was great spending time with Shannon (Muy) and Donald during our 6 day hunt. I knew from a past hunt that we were going to have a fun time even if we weren't able to tag out on a mature Kentucky buck.
Well, here's my account of what happened on my last evening of hunting...along with some pics.
It was the last evening of the last day of the hunt when a buck that my friend and outfitter Brad Nelson knew very well finally made a mistake. Below are some trailcam pics that Brad has gathered since 2008. The buck was known by several names: "Ole Man", "Tank", and "Big Wide 8". He was at least 6 and 1/2 years old, and quite possibly 7 and 1/2, which is ancient for a free range whitetail buck.
At the time of my encounter with him on 9/8/2011, the buck was big and wary. It was only after a short rain that he and another buck decided to make their way toward the corn fields of Brad's Kentucky whitetail haven during shooting light. He was so extremely wary that at one point about 80 yards away, he stopped, and stood motionless except for the rotation of his head and the swiveling of those radar-like ears. He scrutinized the surroundings for a full 10 minutes trying to detect any signs of danger. Would the wind swirl, and tip him off that a human was on his projected path? My heart rate increased. Finally, he resumed his march, but even then, he would only take 4 or 5 steps before stopping and again checking for danger.
Fortunately for me, the treestand was well hidden in a small group of sycamore trees, and the wind was in my favor. By this time, I think my heartrate was at least 180 beats per minute, but I held my composure enough to draw on him when he became broadside at approximately 18 yards. I had to make a doe bleat sound with my voice in order to get him to pause in my small shooting lane. A moment later, the arrow flew true and found its mark. In just a few seconds it was all over. I did not see him fall, but believed that I heard him crash in some brush about 70 yards from the shot site. Twenty five minutes later, Brad and I confirmed the location, and put our hands on a truly massive brute of a buck who had seen many years of weather, buck fights, rutting, breeding, predators, and who knows what else... "Tank" weighed a whopping 255 lbs., and his wide 8 point velvet covered rack scored 134 and 2/8 inches.
I have been truly blessed to be the one who was able to harvest such a monarch of the whitetail woods. He will occupy a prominent place in my home so that his memory will last for many years to come. The beast is dead, long live the beast! This is indeed why I "live2bowhunt"
2008 Trailcam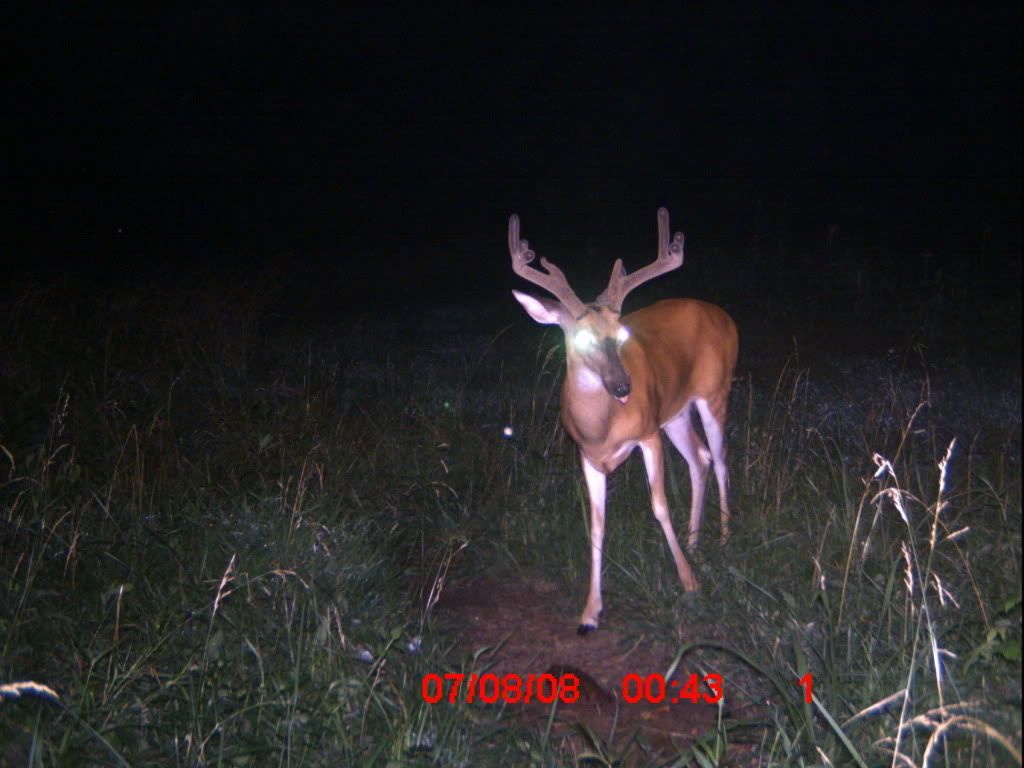 2009 Trailcam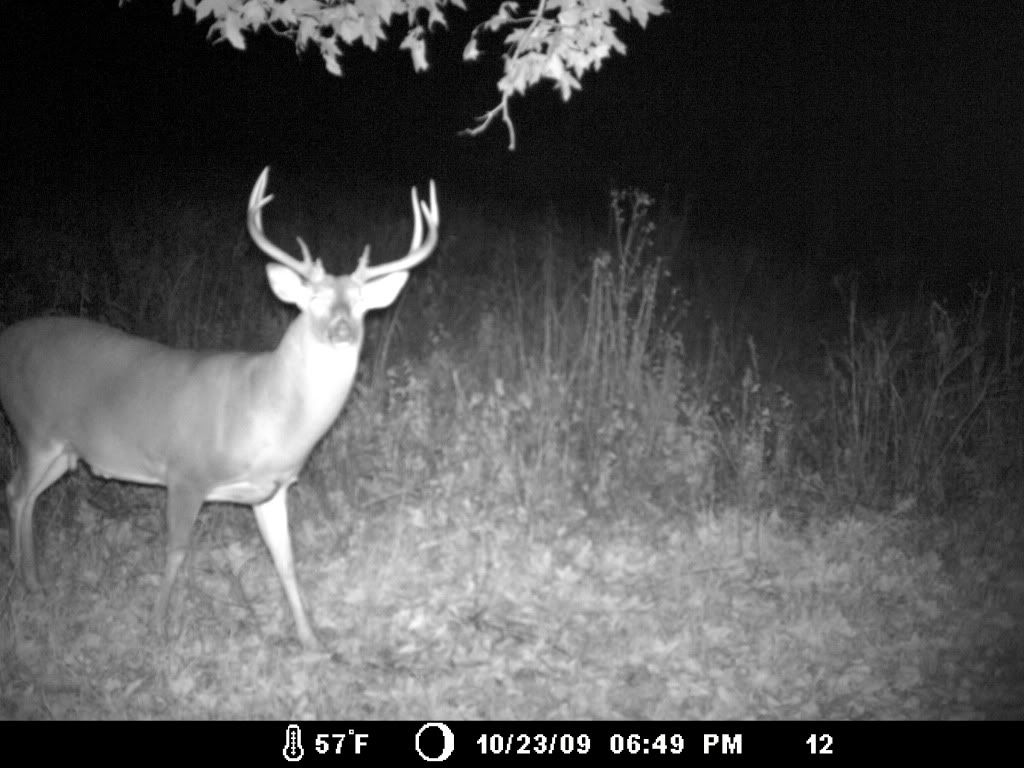 2010 Trailcam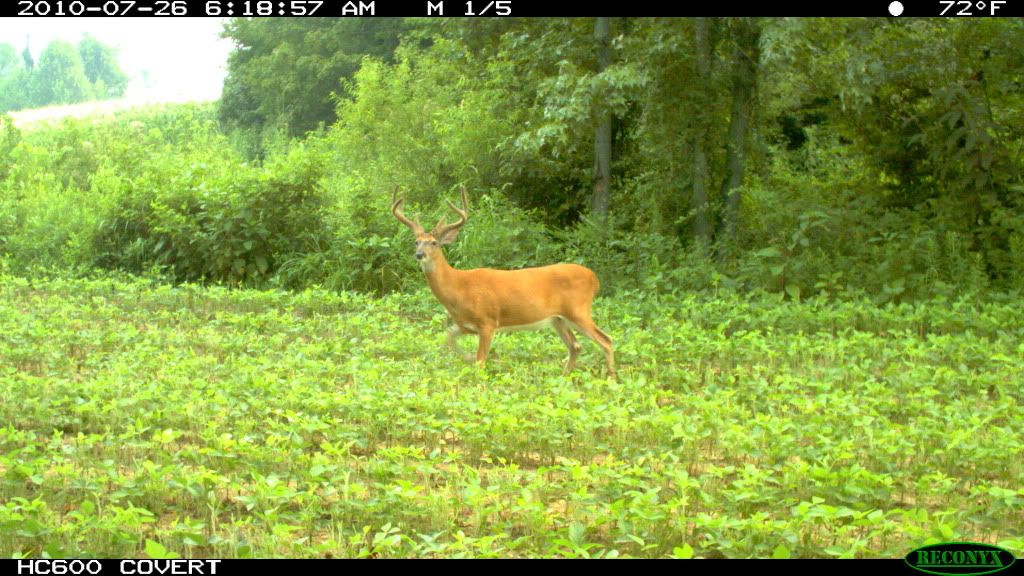 Harvest Pic1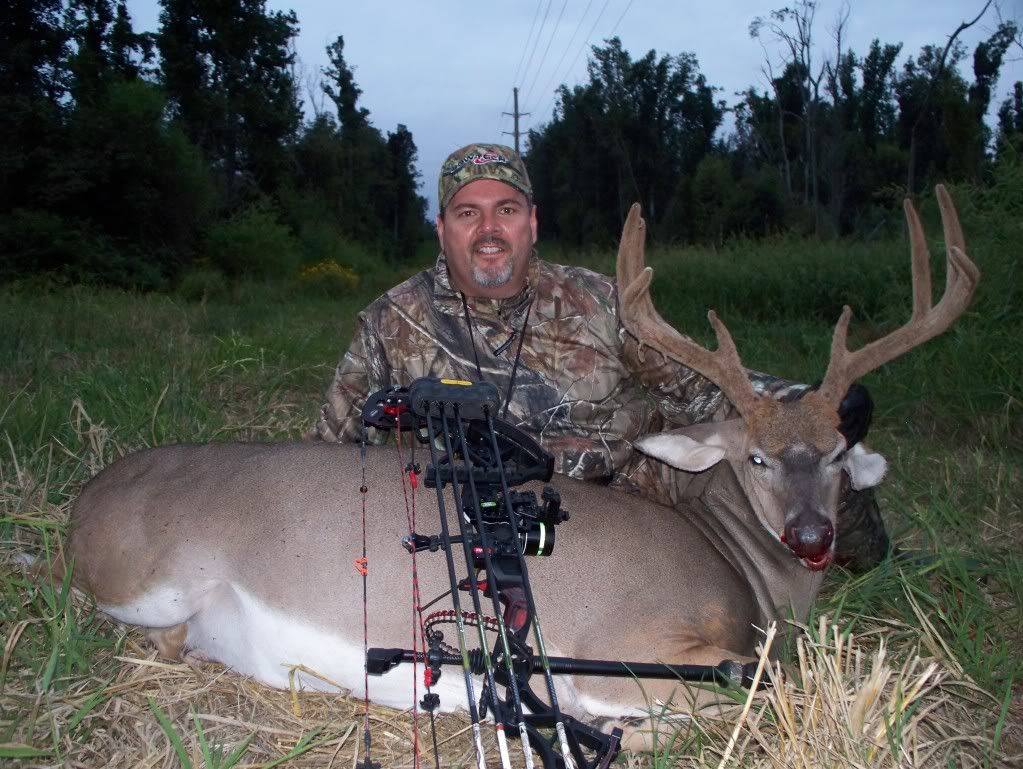 Harvest Pic2