Discussion Starter
·
#1
·
Mr. Perfect dances at the "HUB"
"Ready, Jenna? One, two, three, PULL!" And with a mighty heave from an unlikely duo, the buck inched forward, breaking loose from his death bed, and as quickly as he had started to move, he stopped. "Oh man, this guy is heavy," I groaned to myself, my thoughts turning to my diminutive partner. Jenna is my soon to be married daughter, who as usual, was up to the task of helping her dear ol' dad, in what would prove to be a protracted, drawn out, 30 yard game, of…tug-a-war.
The truck, was not far away, but to get there meant we'd have to drag this 250 pound beast, in stop and go fashion, through tall grass, over a log, across two steep depressions, not to mention negotiating the final three foot upward haul into the back of the truck.
The struggle over the tailgate of the Tundra on the opening evening of Iowa bow season, seemed a monumental task for this unlikely duo, but, after several attempts, a blood soaked nurse's sneaker, and a couple of near cardiac events, "the baby was born"!
The beast…was loaded.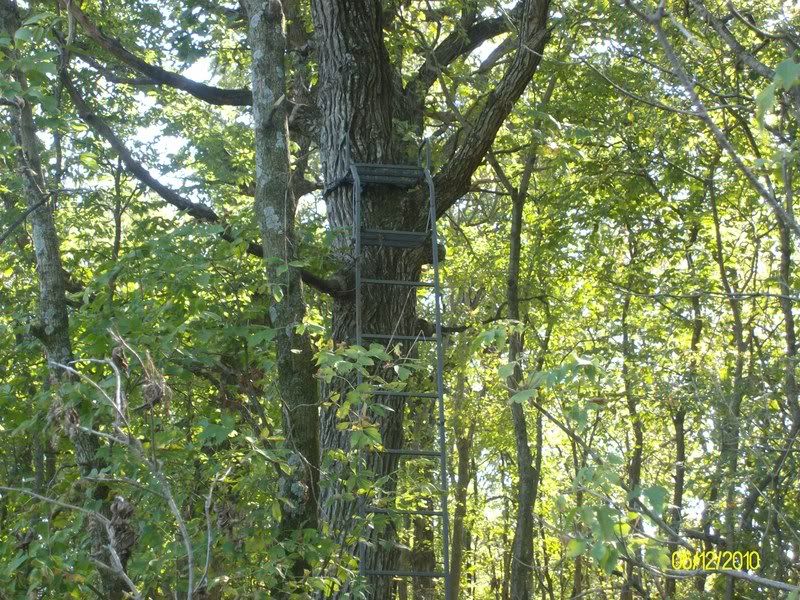 The top of the ladder stand seemed a cozy and secure place to hide in my attempt to close the deal on another Iowa Magilla. Settling in for the wait, I pulled an apple from my fanny pack. Eating with one hand and ranging with the other, I soon was ready to try out this new stand location, which only a few weeks earlier had been engineered by my nephew Mike and my brother Ken. Mike and I had hatched this plan to place a stand between several trails and secure the success of that location with a small quarter acre food plot, of Mikes choosing. He chose Bucker Oats with Chicory. Flanked by trees on three sides, a creek running not 20 yards adjacent to the plot, and the new tender growth, made it a perfect food source for staging deer. We named this location…The Hub.
A very large doe, the first of the evening, showed at 5:30 p.m. She literally ran into the food plot grabbing a mouthful before she could even stop. For the first five minutes she would, every minute or so, make little guttural bleats of contentment, as if to say "mmmm, sure is good". This stuff along with an acre of Purple Top Turnips that are located elsewhere on the farm, seem to have an addictive "crack" effect on our local deer population. Though our first year utilizing this food source, it will not be our last.
As many as ten deer showed, revealing themselves to my hidden location, each reacting with the same enthusiasm and running or hurrying to the food. I was entertained by glimpses of 6 yearlings, splashing and frolicking up and down the creek bed. This was a gorgeous October day; I was hidden and just watching, as nature revealed the absolute sweetness of this God given "Bambinic" moment. I was having the time of my life soaking in all that nature was supplying, and God was so graciously sharing….
Could things get any better?
"YES"!! I screamed under my breath, the Monarchs picking up the movement of snowy headgear. One hundred fifty yards away and directly facing my direction, he loomed in the shadows a magnificent looking beast. With a prize not just "wide as his ears" but, WIDER than his body! His tight muscles rippling under thin, sleek, October hide, he lowered his head to the forest floor…how many points? How…many…points?
Not suffering from buck fever for many years, I found myself caught up in the throws of an affliction, which can cloud the judgment, blur the eyesight, and cripple the accuracy of even the best men. My nocs were shaking uncontrollably, one hand on my Mathews Drenalin, the other straining against the elastic of the bino harness. I couldn't count the points! My body seemed flash frozen. My mind racing in fear – would I be able to close the deal? Would I spook the does around my stand? Drawing on a large buck is tough enough by itself, let alone doing it under the watchful eyes of 10 does! Crippled with fever, and knowing it… I had to act. I had to DO something! I knew it was only a matter of time before he stepped into a shooting lane, and then I would have only one chance. One opportunity! One chance to dance!!
"Stop", I told myself. "Stop watching him. Put down the nocs! What are the does doing? Get prepared! This is where the years of experience kick in. Where will he come from? Which trail will he use? Are you in the correct shooting position? Do you need to change it? If so, start now, ahead of time. Is your bow in position to raise and shoot? Is your arrow on the rest? Will you stand, or sit at the shot? Many questions ran through my mind. Many decisions needed made, NOW.
Fifteen minutes pass. They are agonizing, full of anticipation, excitement, and fear of the unknown. In bow hunting, rarely is anything perfect. My eyes dart every direction, trying to keep track of every deer on my radar. Every turn of the head, and every flick of an ear, has my attention now. Waiting to be busted, at the last second or waiting for a signal that the "last dance of the day" has just begun…
Calmer now, having had the opportunity to slow my breathing and get a plan together, I am as ready as I am going to be. All decisions have been made.
Several heads pop up to my right and ears go on alert.
Brush cracks to my left and tines are glimpsed at 25 yards through brush that obscures my view. I guess we're dancing…He spent about 30 seconds making a scrape then confidently stepped onto the edge of the food plot. BUT...I am there! I am under control! All eyes are on him, he IS… Mr. Perfect. No one sees ME draw, but ME…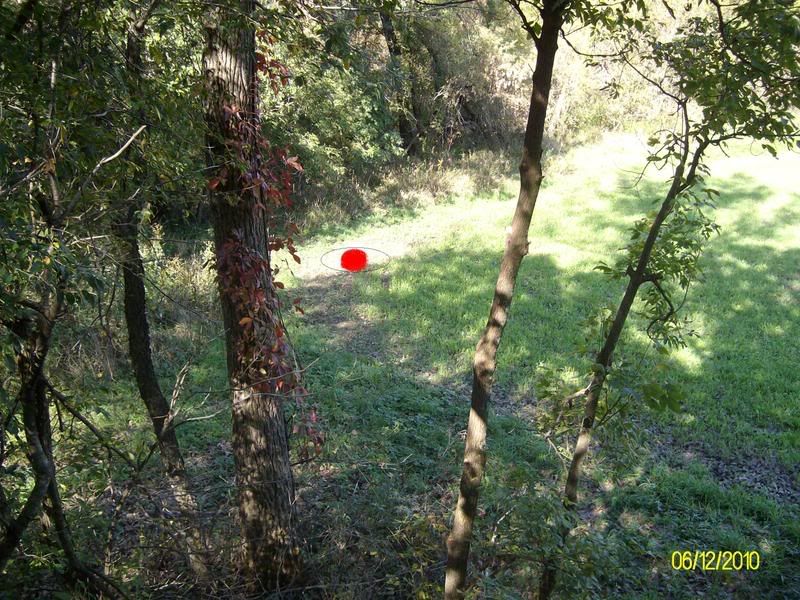 Ranged earlier at 20 yards, the shooting lane is bisected by a 100 grain Grimm Reaper Brodhead pushed by a Carbon Express Maxima 250. Included in this delightful bisection are two ribs and two lungs. The arrow nock flashes in the dirt as he stops in amazement, lowers his head in disbelief, staggers to his left, and falls at forty yards!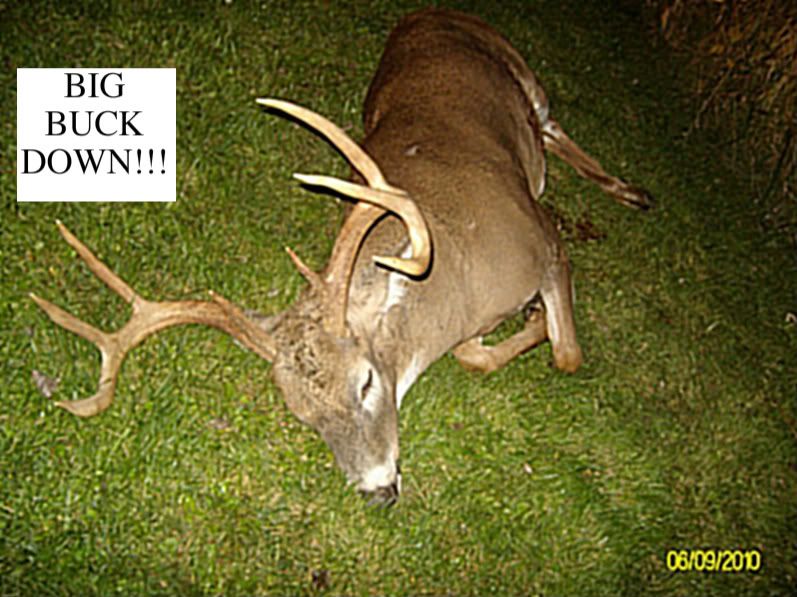 'The beast is dead! Long live the Beast'!
It's incredible… the bond… the sense of oneness, we sometimes feel for a magnificent animal that falls to our craft. No matter how many times they fall before me, I have never ceased to be humbled by it.
I knelt beside this "perfect 8 point", and running my hands over his 23" main beams, named him Mr. Perfect. Then placing both my hands on his warm body, I gave thanks, and humbly asked that the same spirit of freedom and strength be passed on to me.
Respectfully submitted in honor of Mr. Perfect
Spit