Discussion Starter
·
#1
·
Started set up on a Polaris today. 66" bow 24# at 28" marked (26# at 30" measured). Tried the new
string that came with the bow, even though I had to redo the center serve to fit the 600s I have.
Shot the bow with the re-served string (62 3/4" long) given with a Brace Height (BH) of 7 7/16".
Not happy with the stock string after shooting un-tuned arrows, so decided to make a new B50 string.
Went 12 strand and as I have not dacron serving used spectra. Went .019 Halo for the loops.
Then switched to .014 Halo. New string gave a BH of 7 15/16" after shooting a few ends. Shooting
the same un-tuned arrows the bow shot better.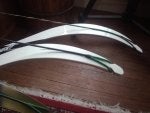 Ordered 700s with the bow and they would not fit the re-served given string. The 12 strand
with .014 Halo for center serving still required the nocks on the new 700s to be filed lightly.
The nocks had a pair of small chevrons inside each nock tang, so removed the chevrons, then went
20 more small/fine file strokes to get a good nock to string fit. The un-tuned 700s (only got
three fletched) shot good enough. This rig may be going to someone with a 24" pull and although
lighter spline arrows may be better, I want to try the 600s and 700s first. When I pulled so my
wrist anchored on my chin (approx. 24") the 700s flew good enough.
I really like this bow. Used a large Velco shelf and side plate. When you consider it is just
over 100 bucks it is impressive. Got the bow shooting decent with a un-tuned rigging. Looking
forward to getting this rig dialed in.