Discussion Starter
•
#1
•
I wanted to post up a review of the Sevr broadheads since they are relatively new and I haven't seen a ton of reviews.
When I bought these I had heard some good things and liked the design, flight is great with FPs. No complaints there.
I just got back from Oklahoma hunting some Texas Dalls as an off season hunt. Ended up taking one with a shot right in the rib cage but lacked any penetration, given my bow is tuned to shoots fixed blades to 60 very well, the flight is good. My bow is also bringing border line insane kinetic energy. Double XL @ 83 lbs 33" draw and 570 grain arrow. Penetration should not be an issue but ~ 1/3 to 1/2 of my arrow entered the sheep and then dead stop. no significant damage to the other side of the rib cage so it did not look like the second side slowed the arrow but it stopped before reaching the opposing side. Reasoning seems to be in the attached image.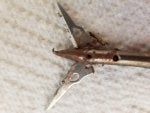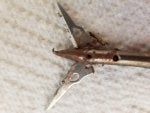 The tip of the broadhead folded over significantly. The picture downplays the fold as well. The animal did die and did so quickly but due to shot placement.