Discussion Starter
·
#1
·
I'm sure by now a handful of you have read some of the initial reviews on the Snot family of products introduced at the 2010 ATA show by .30-06 Outdoors LLC. I finally got my hands on a couple of their new products last week, and have spent a bit of time to collect my thoughts and put them on paper.
The Snot family of lubrication products consists of 3x separate offerings……..String Snot, Arrow Snot, and Rail Snot. I've had the opportunity now to see and evaluate both the String Snot and Arrow Snot.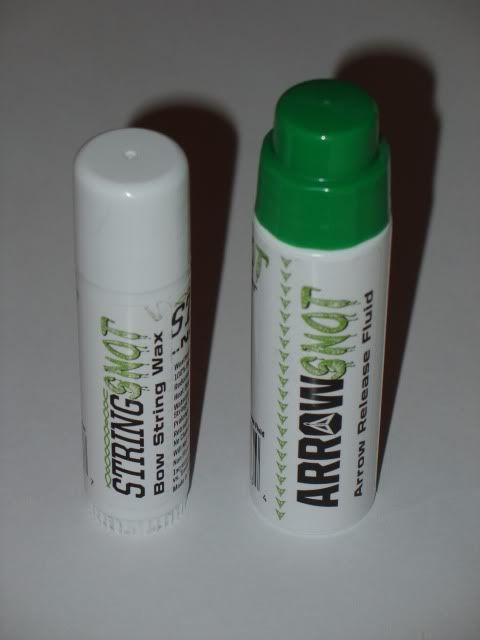 String Snot
After about a week spent evaluating String Snot, and using the product on two separate bows, my initial impression is that it's the best bowstring wax currently on the market. I've got years of experience with several kinds of "high end" wax that are recommended specifically for the modern fibers used on the modern bows of today. String Snot stands out for several reasons which are outlined below.
Weatherlock Technology ™
100% Odorless
Reduces String Flaring and Feathering
Heat Displacement Technology (HDT)
Waterproofs Compound and Crossbow Strings and Cables
Prolongs Bow String Life
Retractable Glide on Container
No Clumpy, Waxy Build Up
Will Not Freeze
Non-Flammable
Increases Bow String Speed vs. Traditional Waxes
Made in the USA
As a competitive archer and bowhunter, stability of my string and cables is incredibly important to me. This is one of the most crucial parts of keeping a bow in perfect tune, and having it perform as intended during the critical moment. It is fairly well known that BCY's 452X string and cable material is the most stabile string material product on the market. 452X remains stable in a variety of temperatures, produces good speed, and is incredibly resistant to string "creep". The only drawback to 452X is that the fibers are fragile and are susceptible to "flaring" and "feathering" when it makes contact with the harsh elements of the outdoors. This makes your expensive string look tattered and causes it to wear faster, and this can even be caused in areas where the string may pass through a cable slide or roller guard. This becomes a problem when used on hunting bows especially, they typically will see briar thickets, sticks, limbs, etc…….while being carried around in the woods and while being pulled up and down multiple trees in a season of hard hunting. String Snot will not only prevent these fibers from being damaged, it will also completely waterproof your string using Weatherlock Technology ™, the same technology currently licensed to Winner's Choice to use on their top of the line bow strings.
Below is a picture of a fairly well used original factory string on a 2008 BowTech Constitution. This string has an honest 50,000+ shots on it and was feathered and flared before I applied a liberal coating of String Snot. When I rubbed it in with my fingers, it applied easier than anything I've ever used and without clumping up. This string now looks fantastic, you would never guess the amount of shots on this string and cable set.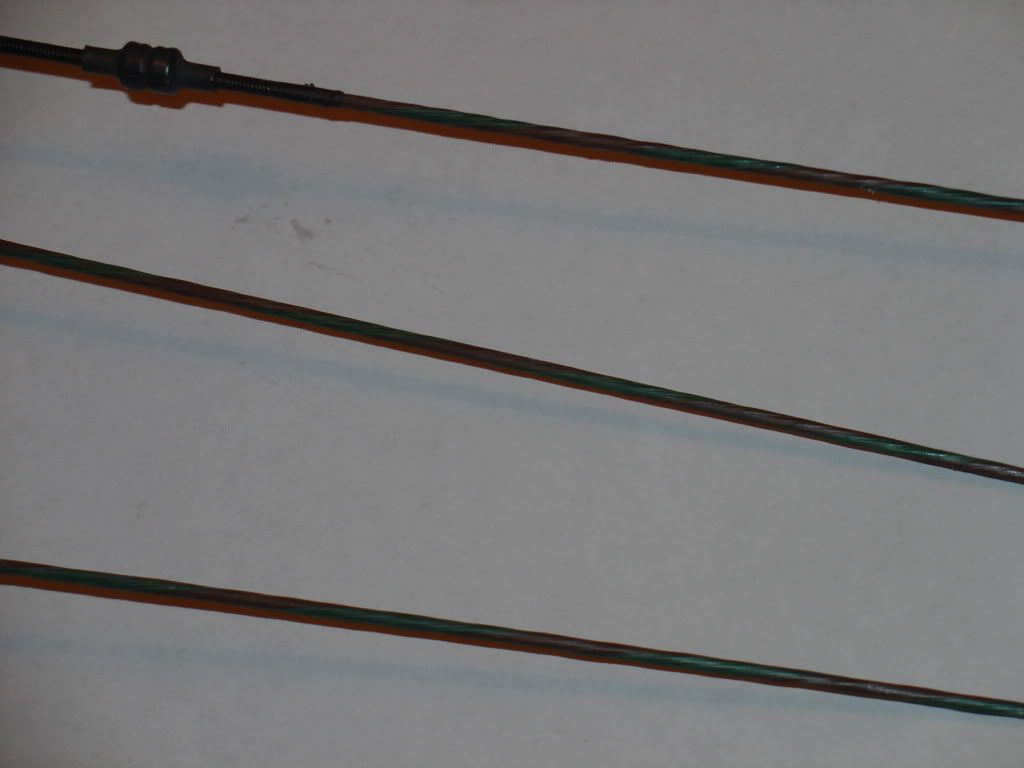 In addition to protecting and preserving the life of these string materials, String Snot is also significantly lighter in weight than the other "high end" string lubricants that are recommended for today's modern string materials. What this equates to is more speed when compared to similar bows using other waxes. While this is difficult to test and measure in the real world conditions, I did apply the wax to two separate bows, I've listed the speed results below for each setup.
2008 BowTech Constitution (49lbs draw weight, 30.25" AMO draw length, 442 grain arrow)
Before applying String Snot:
After applying String Snot:
2010 BowTech Destroyer 340 (63lbs draw weight, 30.25" AMO Draw Length, 315 grain arrow)
Before applying String Snot:
After applying String Snot:
While I don't see this product adding speed to your current setup, I do see it slowing your bow down less than other waxes or lubricants. I say this because String Snot is
significantly
lighter. While I know this isn't a "scientific" test, I sliced off a ¼" thick piece of the String Snot, and a ¼" thick piece of BCY ML6, and then weighed each. Despite the piece of String Snot being significantly larger in diameter due to different packaging materials, it weighed noticeably less when compared to ML6. The String Snot weighed in at 13 grains, and the ML6 weighed in at 21 grains. Below is a picture of both pieces that were weighed, the String Snot is on the right…..it's easy to see that it's noticeably larger, yet MUCH lighter. I'd assume this stuff really does weigh about 50% less than traditional waxes.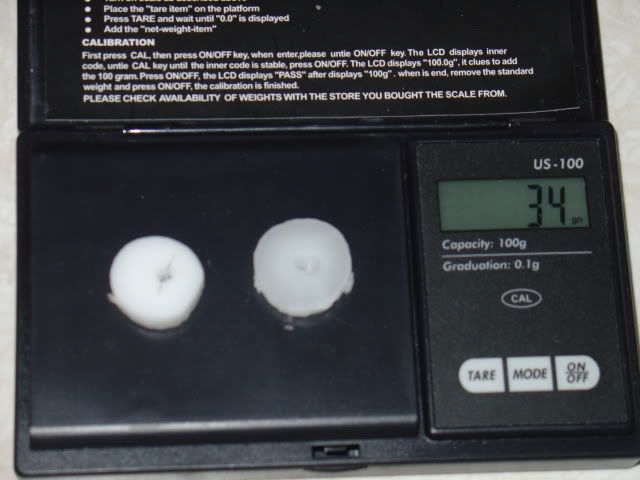 If you would like to learn more about the Snot family of lubricants, please touch base with our friends over at
www.bowhunting.com
, they will be stocking the product and it will be available through their online storefront. Dealers can contact .30-06 Outdoors LLC directly at (614) 623-3144, or
[email protected]
.