Discussion Starter
·
#1
·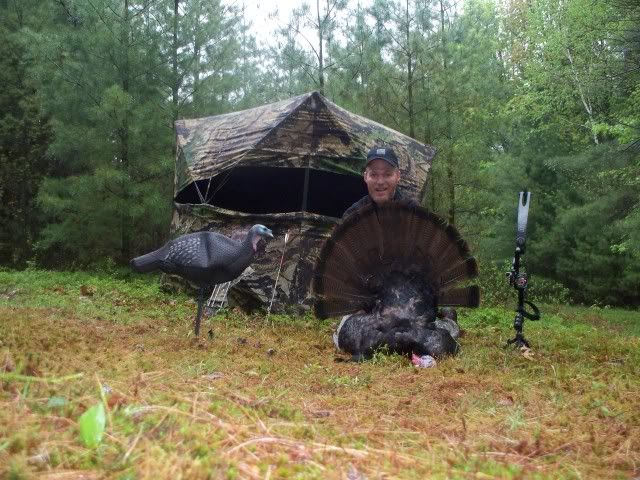 This story starts three years ago when I worked three jakes in this area; since then I have called there and hadn't heard a gobbler since. I saw a hen there two days ago by herself around 7am, no responses to my call. Yesterday I ended up here at 7am after calling in a jake and a silent, stalking hunter at my first two setups. I did a couple aggressive cutts and got a response, went in and set up the blind and decoy on an open trail. Had a couple gobbles to cutts and last heard him at 8:45 when a pileated woodpecker came in loud; he answered one call right after that. I stayed till noon and figured he was with that hen I had seen.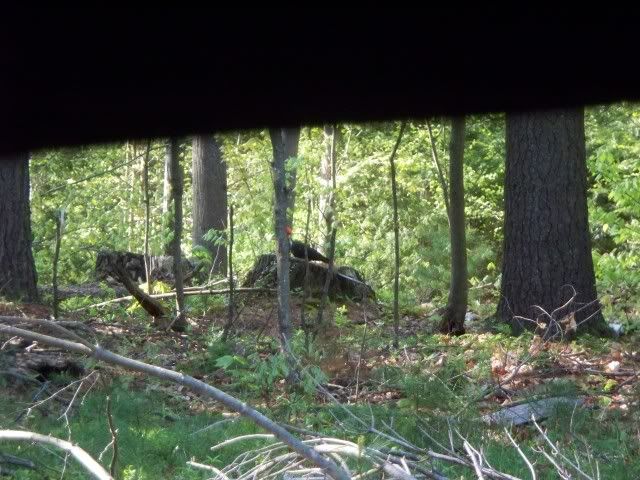 Woke up to a steady rain this morning, almost didn't go but didn't want to miss this chance. I got set by a little after 5:30 about 20 yds from yesterday's spot, I moved to where the trails form a "Y"; this turned out to be a good move.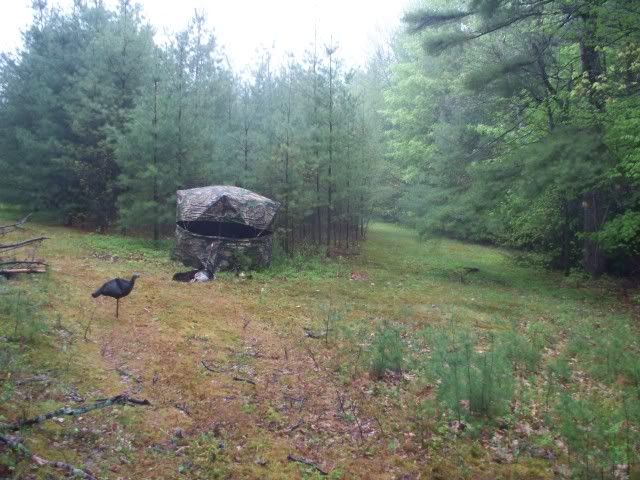 It rained on and off, I called every 15 minutes or so. I finally thought I heard a gobble and some crows about 6:40; did another call at 7:00 and thought I heard a gobble cut me off, hard to tell with the rain from inside the blind. Rain was letting up and I did a soft 6 note yelp at about 7:15 and heard a gobble behind me; he was in a grassy clearing within 100 yds. I did some soft clucks and purrs and I kept glancing out the back windows and finally spotted the hen on the trail to my left at 7:30 with a bright red head about 10 yds behind her in full strut. The hen worked right by the blind at 5-6 yds, when she saw my decoy she did some quiet clucks, then purred and headed towards it. I was watching the hen when I noticed the red head right in the opening of the blind he was less than two yards away in strut. I could hear him drumming and noticed his whole body shake, especially the fan, when he did it a couple times. I had the bow ready and figured I had to get a shot as long as neither bird saw me; eventually they were both facing away and I started to draw the bow. Just as I was drawing he turned to face the decoy and must have seen me, but it was too late; he turned back to the left and stood straight up and I made a good pass through shot at about 5 yds from the blind. The tom stumbled about 7-8 yds and went down not far from the arrow.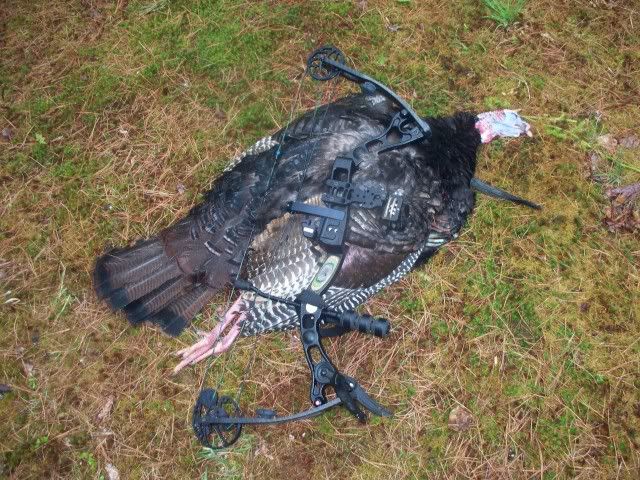 He weighed in at 20.5 lbs, beard is 8 3/4" and, spurs are 3/4". This was a good mountain bird at least 3 years old; might be one of those 3 jakes I worked. The beard was broken and his spurs are rounded off from the rocks, he won't score like a farm bird but he's a trophy to me. His belly feathers had rubbed off from strutting so much. Love bowhunting mountain turkeys.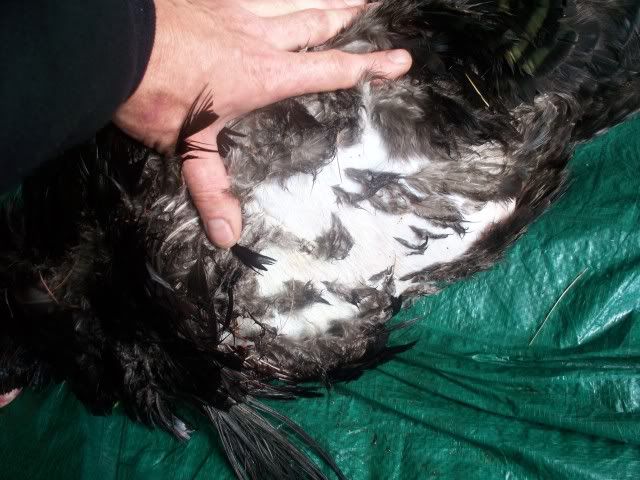 I'm all tagged out with the bow here in the Southeastern Adirondacks, took a jake on Monday after messing up two shots on a nice tom sunday morning. Called in one gobbler at 6:30, no shot; the second one came by at 7:00 and I couldn't get it done. After missing once(hit a branch) at 15 yds, I rushed a second shot and hit him high in strut and only got feathers. Got a response the next morning at 10:00 and setup and called in two jakes. Shot the nearer one at 22 yds out of the back of the blind and uphill.