·
Shade Tree Bow Technician
Discussion Starter
•
#1
•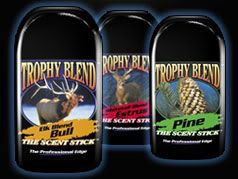 I have been hunting for over 23 years. Things come and go, and I can tell you have I have tried numerous items that were supposed to increase my chances of harvesting that game animal.
I can also tell you I am not a know it all when it comes to using scents in all my hunting situations, but I have used my fair share in the past with some sort of degree of success. If you are like me you have seen the shows on TV that tell you scents, cover scents, estrus scents, and attractants are just the ticket you need to be successful, when used properly.
Scanning one my favorite forum, I came across a post about a new scent, well not brand new, but new to me about a scent company looking or staff members. I submitted my info and within four days I received a few packs to use in the field. I consider myself very fortunate to be able to represent many sponsors and I am always looking to add quality products for reputable companies to my already awesome arsenal. Ok, I know I am supposed to be doing a review, so here you go.
Product packaging:
I feel the packaging is very stylish. By that I mean it caught my eye as I looked at it and made me want to look harder. Also, if you kept the package after opening it creates a way to easily store it when not in use.
Dispenser:
This is where this scent differs greatly from other forms of scent dispensers. When I got the box and opened it I noticed it looked like a stick of deodorant. I smelled the outside of this stick but no smell. Good seal. I cut around the seam and removed the cap. Now that's better! MMMM smells good! The dial worked smoothly and the lid, once I cleaned the paper away from my cut, popped on nice and snug. The scent remained in the canister, no smelly messes and worrying about a broken or spilled bottles.
Scent:
I opened the Grape flavored hog scent. It was a nice sweet smell and I could see how it might drive those critters crazy. If I didn't know better, I felt I could have taken a bite of it. I also opened the dispenser of Acorn scent. The part of Texas I was hunting in has tons of acorn trees and seeing as how I was in the middle of an oak brush forest, I figured that would be the ticket. It smelled like acorns I have smelt in the past and I knew this one was going to be a winner for me as well. I did receive a few other scents, but do to the short amount of time I had to hunt I didn't even try to work those into the mix. I will on my next hunt.
Application:
As mentioned before this scent comes in a deodorant type dispenser. Now, me being used to the liquid scents in the past, asked Mark Mason of Trophy Blend the best way to apply these when going into and coming out of the hunting area. The first thing he suggested was to walk a trail or two back into the woods while holding the dispenser at my side allowing it to brush against anything in its' path. He also mentioned that under no circumstances should I put the scent on me especially when it has to do with the estrus blends.:nono: Once at my desired location he suggested I put my scent out and dial it up and use it as a yardage marker.
Field Test:
I received the scents on a Friday afternoon. I got up Saturday morning, got into the woods well before daylight. I pulled the acorn scent out and rubbed it on the surrounding trees and grass. I then dialed it up and sat it on the ground about 20 yards from the blind. I climbed in the blind and waited for daylight. It was about ten minutes into legal shooting time when I saw a doe coming down the trail. When she hit the scent stream and walked right into the setup. She sniffed all around the brush I put it on then began to start licking the scent dispenser. She was licking so much I thought for sure she was going to eat the stick. Now during this time I drew my bow a couple times hoping I had enough light to see my pins, but it just wasn't meant to be. After licking on it for what seemed like a half hour, though it was closer to 10 minutes, I guess she figured she had enough and wandered on. I am just glad she didn't eat the scent dispenser as well.
Now I know this was my first opportunity to test these scents and though I didn't harvest an animal I am definitely a believer after having an experience like that. I do not know what will be in store on my next hunts, but I can tell you I will be using these scents over and over again.
Thanks for taking the time to read my review. Feel free to comment and let me know what experiences you or your friends may have had while using Trophy Blend Scents. If you have any further questions please feel free to PM me. I am here to help.
Thanks,
David Stephens