Discussion Starter
•
#1
•
I bought a bunch of Bushnell Trophy Cams 3 years ago and they worked great. It was a lot of fun to see deer, squirrels, skunks, coyotes, turkeys, crows, hawks, possums, raccoons, and especially big bucks on cam. Well, I ended up putting so many cams out, 8, that it got to be a chore and I sort of burnt myself out. It's also hard to do 8 cams that are hard on your fingers to open when it's -5 to -15 degrees out. So I was going to stop using cams. Well, a bunch of the cams broke and 2 of them were stolen (all on private property) one with a Python lock and the guy just ripped the box off the Python Lock, leaving the Python Lock on the tree and the other was in a Bushnell Bear security box, both the box and cam were ripped off. I do use large lag bolts with large washers to put them on. I use lag bolts so that I don't have to worry about stripping the bolt heads putting screwing them in or off. I tried screws at first but one stripped and that was a pain to fix. So with getting burnt out using so many cams, having almost all of them break, and 2 stolen I was thinking to myself that I would just stop using cams.
Well, a great sale on Browning Range Ops cameras at Cabelas for $59 that I couldn't pass up. So I bought 4. I had decided I would never buy any more Bushnell Trophy Cams since every single one except 1 had broken within 2-3 years. I decided I was only going to get Browning or Cabelas cams from now on. I got a pic of a nice buck and killed him the next evening. First time he was on cam and only buck that wasn't a small spike or little 6 pointer on cam. 2 weeks later I saw a nice buck and told my brother to go get it. He killed it the next evening. First time that buck was on cam too. So that was really cool. It really renewed my interest in cams. I got the new Cabelas and Brownings and saw features on each that I liked and didn't like. I figured I'd see what physical features other people liked on their cams.
Battery Indicator - External:
It's nice to see your what your battery level is without having to open the camera.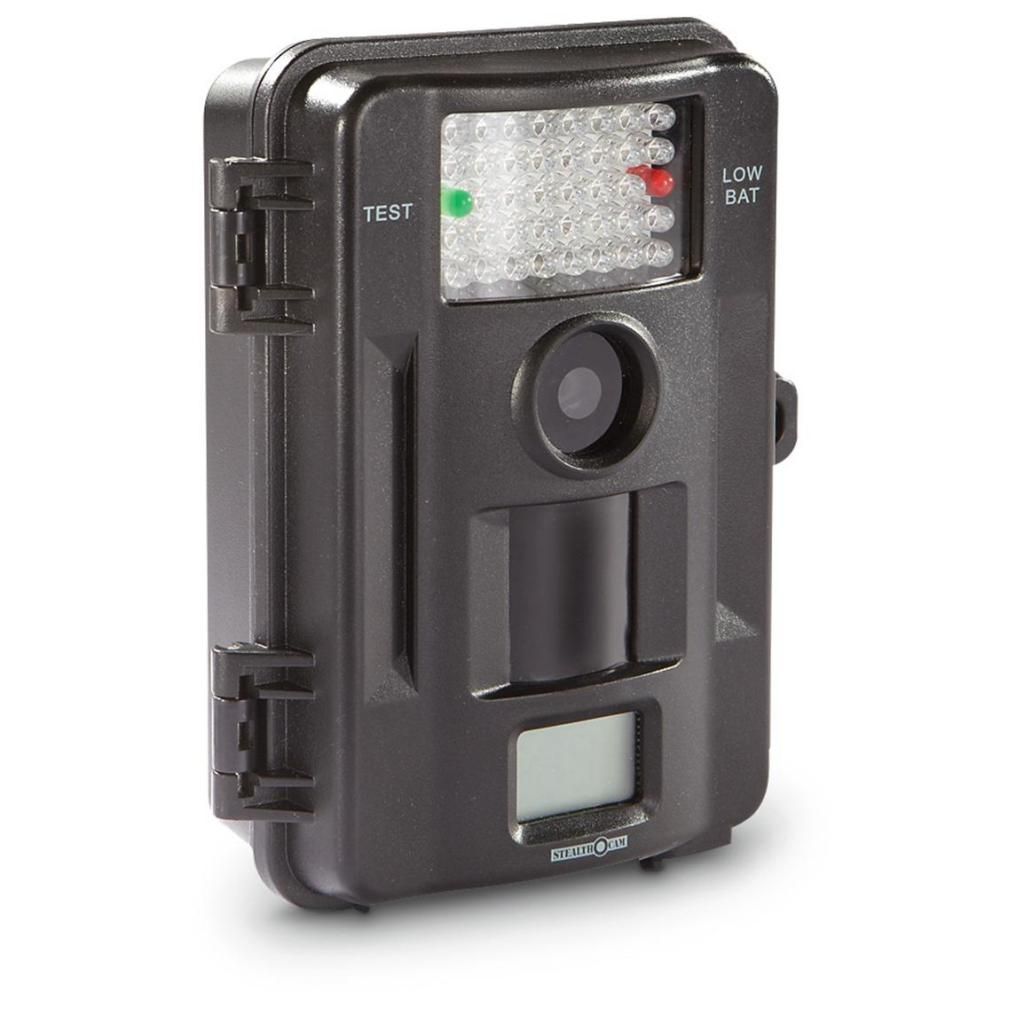 Picture Counter:
It's nice to see how many pictures have been taken and that it's taking pictures when you set it up. I hate getting home and excitedly opening the SD card to only see that no pictures were taken. This mostly has to do with the fact that my Trophy cams would act like they were taking pics with flash and all but they weren't. I know some people think that a pic counter will make a person more likely to steal a cam if they know their pic was taken but it hasn't stopped anyone from stealing my cams without pic counters.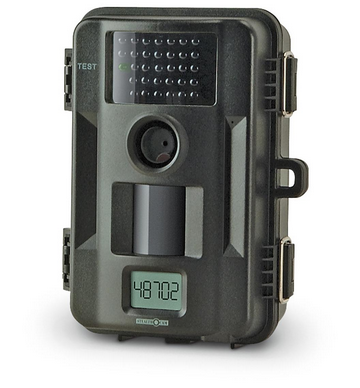 Battery Box - Separate:
I love this about the Browning Range Op cams. You put the batteries in their little box and push it into the cam and no longer have to worry about batteries jostling around and popping out when you are changing cards or transporting the cam. It's happened a few times with the Trophy cams and then you are attempting to put batteries in while it's -10 below and windy.
Single Row Battery Channels:
This is nice because it makes it easier to load and unload, better chance of not putting the batteries in the wrong way, and better chance of the batteries not being shook loose and popping out.

Cable Lock Hole through Cam Body:
This is nice because to rip off the trail cam from the Python or Cable lock you have to break the camera. I've only seen this on the Cabela Outfitter cams. It's a nice feature. The guy who stole my Bushnell just ripped it off and left the Python Lock. He would still be able to use the cam with a strap or in a security box. With the hole through the body of the cam you will destroy the cam or have to cut the cable.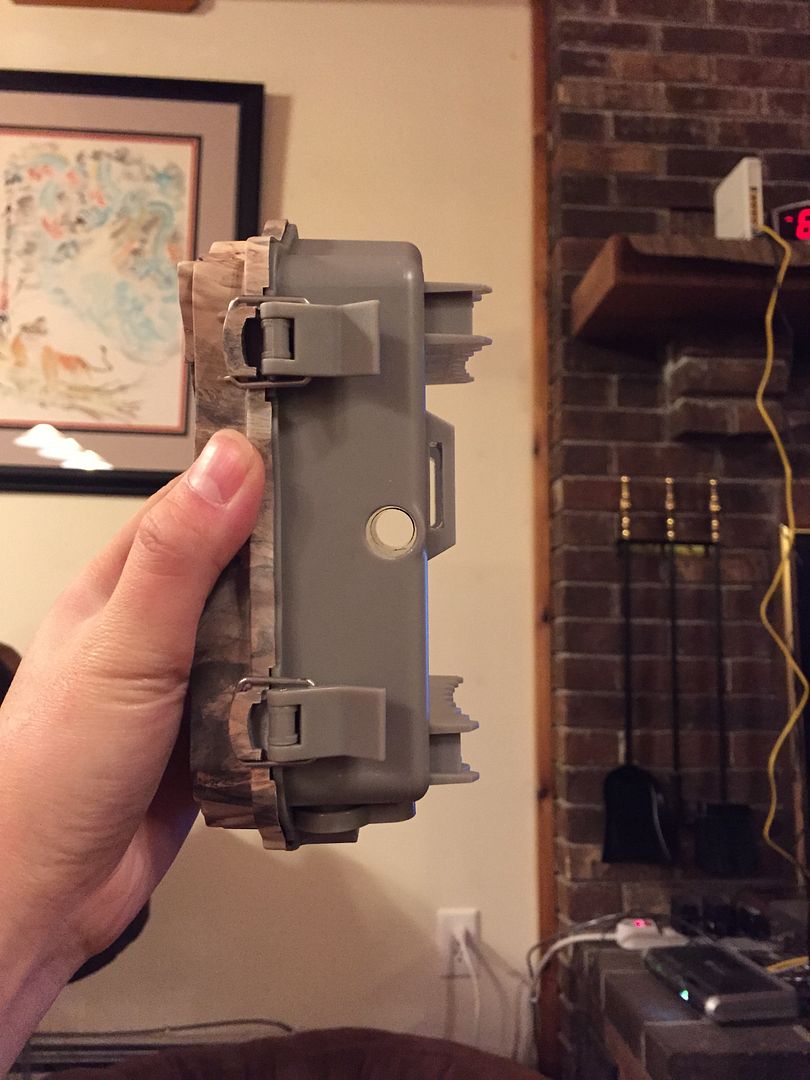 Easy On and Off Button:
This is really important. So many are 3 position switches that are on/off/settings. I like how Browning does it with on/off and then a separate button for settings. With the Bushnells it seems that the 3 position buttons wear out after awhile and are part of the problem.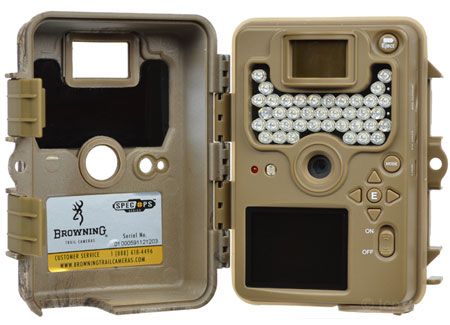 Big Enough Hole for Full Size Padlock:
A standard padlock like a Master lock has a 9/32 inch shackle I believe. However, so many of these trail cameras use very small locking holes that use small padlocks that have a 5/32 inch padlock I believe. Since the standard size is so much more common it'd be nice if they made the holes large enough to use the standard size locks. I looked at my new Cabelas Outfitter camera and realized that it has a nice hole for the Python Lock to be run through it so you'd have to break the cam if you wanted to rip it off.....however, there isn't any hole for a padlock to lock the cam. So a thief/trespasser can just come up and open the camera and take the SD card out. That's quite the over-sight. However, I'll use a security box for all of my cams now, so that's not a problem for me, but for others it could be a problem. Also, the tiny padlocks that are required for the cams are much easier to break or cut with even a tiny bolt cutter.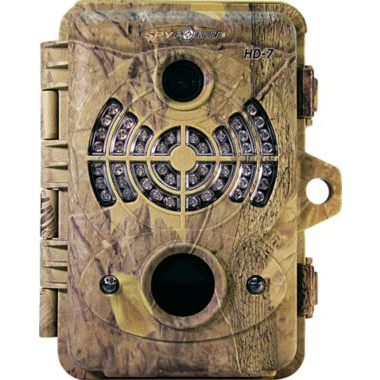 Large Easy Open Latches:
Large latches are nice for opening with gloves on or when you have to take your gloves off and it's cold out. No one likes wrestling with hard latches when it's frigid out and your trail cam won't open.
Easy insert/remove SD card slot:
I never thought that this would be a problem but the Browning cams SD card slots are really deep so very little of the card is poking out. This makes it hard to push them in to pop them out. So, cams that have SD card stick out is a nice feature, once again, especially when it's cold out.
No pic.
So the physical features that I like on a trail camera are: external battery level indicator, pic counter, battery box to keep batteries from popping out, single battery row channels, Python lock/cable hole through the camera, easy to use on/off button with separate setting button, big enough padlock hole for a standard size padlock, large latches that can be opened with gloves on or cold hands, and easy to manipulate SD card slot. If you could combine all of these features into one box that'd be great.
Are there any physical features that you like on trail cameras (not software features like quick shutter speed, multiple pictures, IR Black, video, battery life, or anything like that)?
On a side note his cheap Bushnell Bear Box prevented a damn thief from stealing this Bushnell. I know if he had tools it'd be quickly gone. But it worked until I can get a better box. I am going to outfit my cams with Custom 1 Enterprises Security boxes because they are super tough with 12 gauge steel while almost all others are thinner 14 to 16 gauge steel. I plan on using the Custom1Enterprises boxes with the lag bolts with large washers, heavier duty all-weather lock (two of my locks froze up and I had to heat them with a torch last year to get them to open), and the Python Lock on all of my cams from now on. If someone wants to steal a cam they'll have to earn it.
As you can see the 16 gauge was bent up pretty easily only using their hands and a small tool.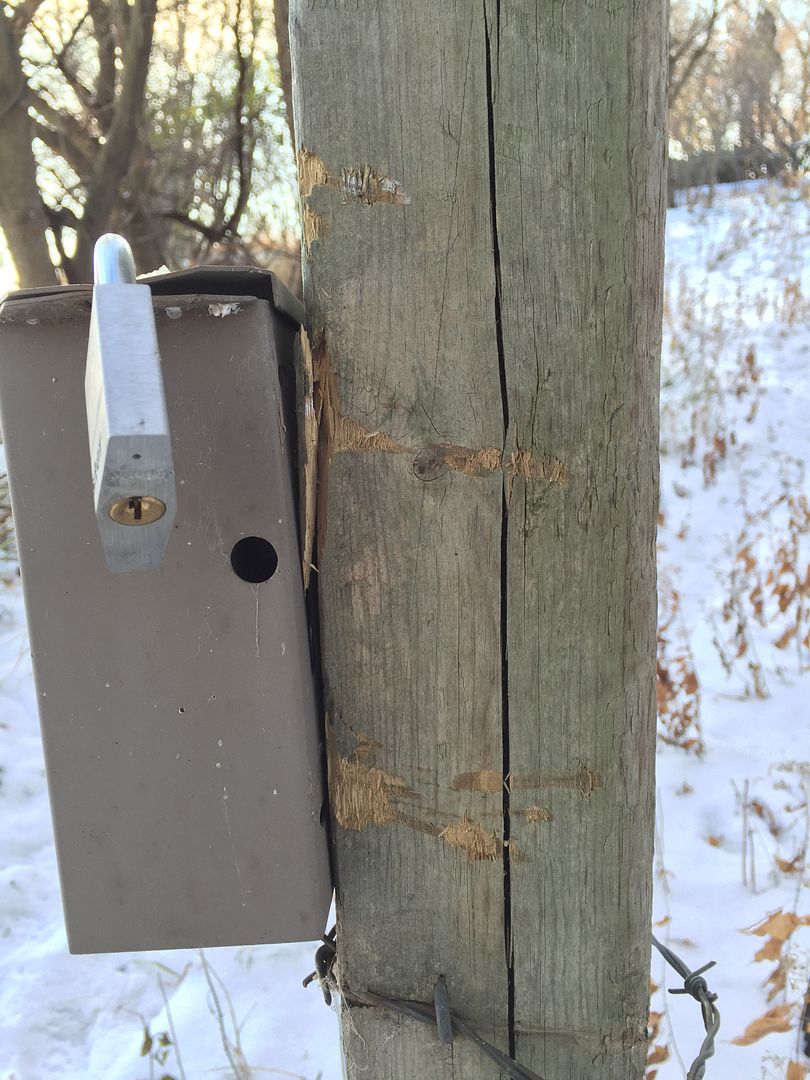 Here is the Custom1Enterprises 12gauge Security Box: They make them for all of the big name brands including the newer Browning and Cabelas trail cameras. They aren't cheap, but neither is a $200-$500 trail camera. Especially if you've already had 2 stolen that had theft prevention measures used. You'll never stop a really determined thief, but you can sure prevent some thefts as shown and make the azzhole earn it. I still can't believe that the crappy Bushnell Bear Safe boxes use the thinnest metal, have open top lids that aren't attached, have small holes so standard size padlock shackles don't fit, and they charge $39 for them. The Custom1 boxes have holes big enough for standard and over-sized shackles, are $49, and have an attached lid, so you don't have to take it on and off when changing the cam's SD card. I don't have any stock in Custom1Enterprises or any cams, so I'm not pushing anyone. I just think that the Custom1Enterprises box is the best out there.
http://custom1enterprises.com/default.htm
I also got the Cabelas Trail Camera bag which is nice to store your cameras in the off-season and to pack your cams in and out when putting them out or bringing them back.
** The best thing you can do is to conceal your cams and use secure methods. However, where I hunt there isn't the cover to conceal cams. It's all very tall barked trees with branches at the very top. So concealing the cams is really basically impossible.